OUR MOST CAPABLE SUPER DUTY
Super Duty® never stops moving forward. That's why Ford Super Duty for 2021 features the available 7.3L OHV gas V8 and the available Power Stroke® V8 Turbo Diesel. Impressive Super Duty gas and diesel power ratings combine with rugged frame and chassis engineering to achieve strong numbers in every category of hauling and towing capability, including best-in-class horsepower, best-in-class GVWR, best-in-class payload and the best 5th-wheel and conventional towing in its class.*
*475 horsepower at 2,600 RPM with available 6.7L Power Stroke® Diesel engine. Class is Full-Size Pickups over 8,500 lbs. GVWR. 430 horsepower and 475 lb.-ft. of torque on available 7.3L gas V8 engine. Class is Full-Size Pickups over 8,500 lbs. GVWR. Max available GCWR of 45,300 lbs. on F-450, Crew Cab. Class is Full-Size Pickups over 8,500 lbs. GVWR. Max available payload on F-350 DRW, Regular Cab, 4x2, 6.2L with F-350 Gas Heavy-Duty Payload Package. Class is Full-Size Pickups over 8,500 lbs. GVWR. See label on doorjamb for carrying capacity of a specific vehicle.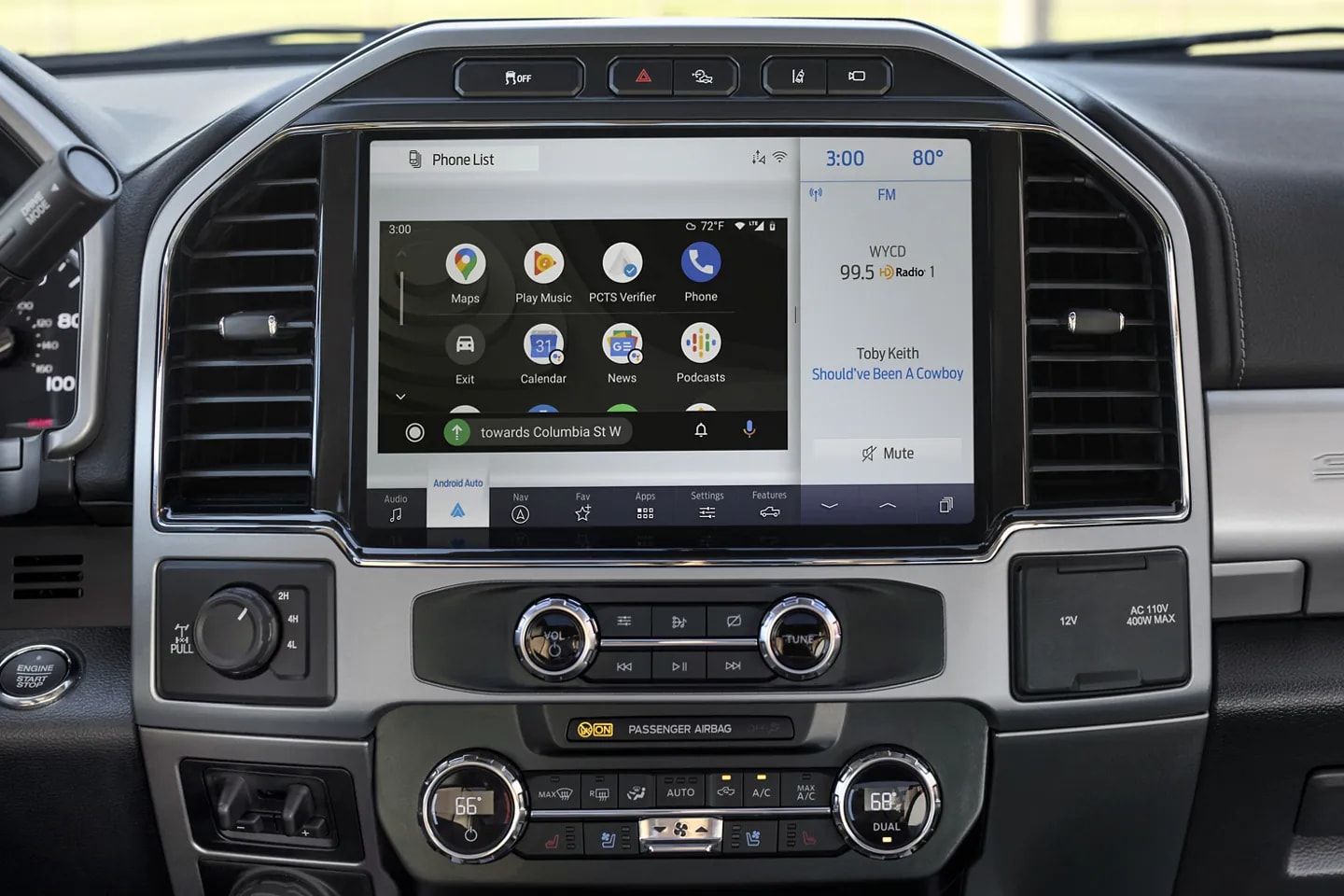 CUTTING-EDGE TECHNOLOGY FOR THE JOB AT HAND
Don't settle for less. Ford Super Duty® leads in power and capability and features advances in technology to match. Super Duty now offers a new 12-inch screen featuring SYNC 4,® which integrates cutting-edge technology directly into your pickup.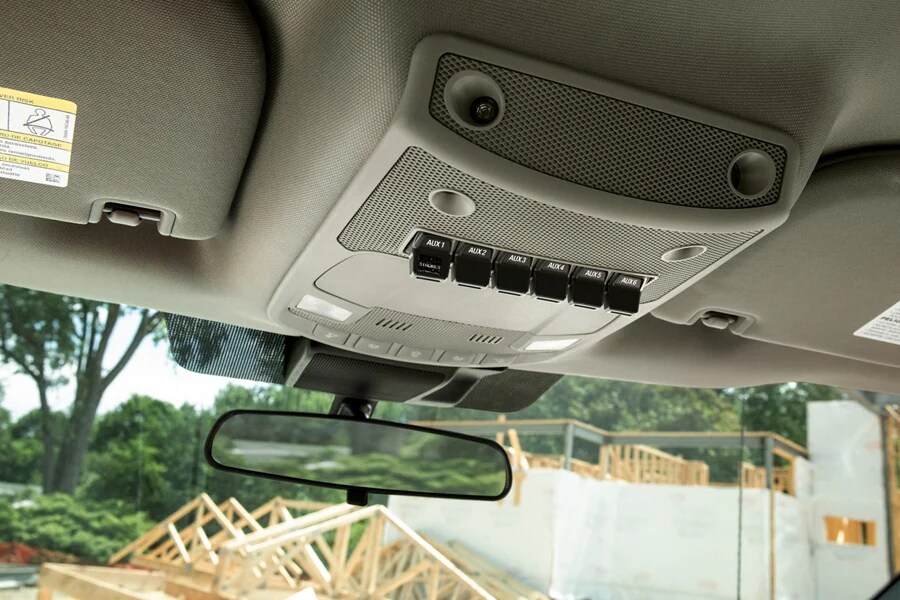 UPFITTER SWITCHES
Super Duty® offers available upfitter switches, located in an overhead console, for a variety of aftermarket accessories, such as a winch, lights, strobes, two-way radio. They're factory installed, so there's no need to cut into the truck's electrical system. Six switches include two 40-amp switches (ignition on or off) plus four 25-amp switches (ignition on).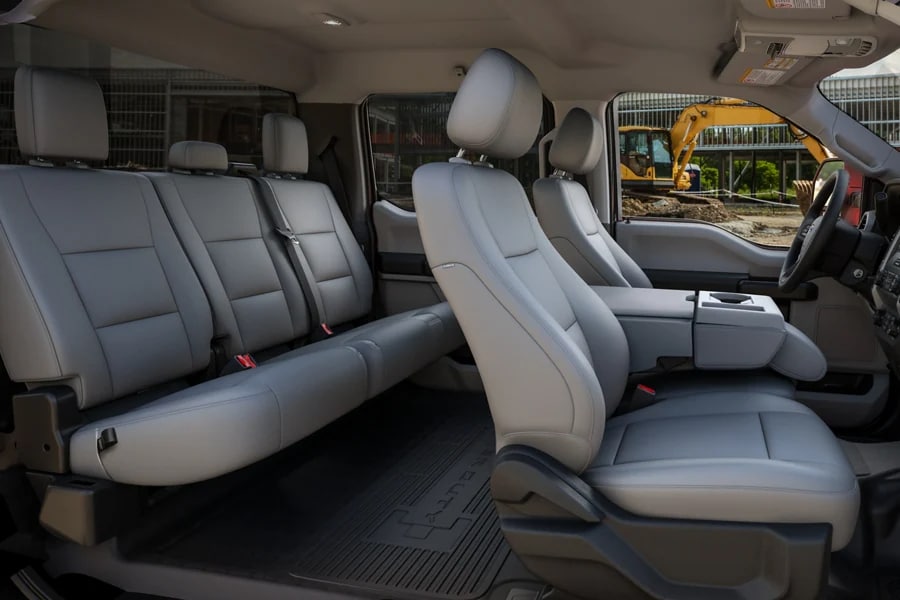 CARPET DELETE
The 2022 Ford Super Duty® features optional Carpet Delete Vinyl Flooring across all trims. Outfit your Super Duty floors with full-length vinyl for added durability.
POWER TO GET THE JOB DONE
Ford Super Duty® for 2021 offers a strong line of powerful engines. The available pushrod 7.3L gas V8 delivers durability and performance for strenuous everyday jobs. And the third-generation available Power Stroke® V8 Turbo Diesel is stronger than ever. Both are teamed up with the TorqShift® 10-speed automatic transmission. So, whether you choose gas or diesel, you have the muscle you need for hauling or towing.
CAPABILITY TO GET THE JOB DONE
At Ford, we know what it means to build a capable truck for the job at hand. That's why Super Duty® has strong capability across every category, including best-in-class horsepower, best-in-class GCWR, the best gas power in its class, best-in-class payload and more.* The Super Duty also offers an available Tremor Off-Road Package with features designed for off-road adventures, plus convenient features like  available rear-seat storage and lockable under-seat storage, 12/7 connector pins for towing, and available exterior LED lighting for greater convenience on the job or for the everyday.
*Class is Full-Size Pickups over 8,500 lbs. GVWR.
BUILT FOR STRENGTH. BUILT TO LAST.
The 2021 Super Duty®  stands out for more than its power and capability. It also features the strong durability needed to withstand hauling enormous loads and pulling large trailers. That's why the Ford Super Duty is designed to work for you over the long haul, whether you use it on the job or for recreation.
MORE THAN 20 MILLION MILES OF TESTING
The latest generation of the Ford Super Duty® was subjected to more than 20 million miles of testing, under real and simulated conditions, at temperatures from -20 to 120 degrees Fahrenheit. Powertrain tests replicated going up a 6% grade over 500 miles. Super Duty was also subjected to four-post frame twists, gravel, dust, water, brine, mud baths and even intentionally tested with worn or broken parts. Such extreme conditions often went far beyond what you would likely encounter on your toughest of jobs.
What is the Section 179 Deduction
Most people think the Section 179 deduction is some mysterious or complicated tax code. It really isn't, as you will see below.
Essentially, Section 179 of the IRS tax code allows businesses to deduct the full purchase price of qualifying equipment and/or software purchased or financed during the tax year. That means that if you buy (or lease) a piece of qualifying equipment, you can deduct the FULL PURCHASE PRICE from your gross income. It's an incentive created by the U.S. government to encourage businesses to buy equipment and invest in themselves.
2021 Deduction Limit = $1,050,000
This deduction is good on new and used equipment, as well as off-the-shelf software. To take the deduction for tax year 2021, the equipment must be financed or purchased and put into service between January 1, 2021 and the end of the day on December 31, 2021.
2021 Spending Cap on equipment purchases = $2,620,000
This is the maximum amount that can be spent on equipment before the Section 179 Deduction available to your company begins to be reduced on a dollar for dollar basis. This spending cap makes Section 179 a true "small business tax incentive" (because larger businesses that spend more than $3,670,000 on equipment won't get the deduction.)
Bonus Depreciation:100% for 2021
Bonus Depreciation is generally taken after the Section 179 Spending Cap is reached. The Bonus Depreciation is available for both new and used equipment.