2021 Ford Mach-E
In Portland, ME
Visit Yankee Ford to Learn More About This Exciting Model
Yankee Ford is proud to introduce Ford's newest innovation: The Mustang Mach-E. Portland, ME residents with a desire for a zippy electric vehicle with plenty of space for gear, passengers, and more can stop looking now. Ford took inspiration from its timeless coupe design while upgrading it for the new world, resulting in an electric crossover with style. Its all-electric design means savings at the pump - because you won't have to visit one anymore. Learn more about the 2021 Ford Mustang Mach-E today and learn more about the limited-run First Edition, arriving in late 2020!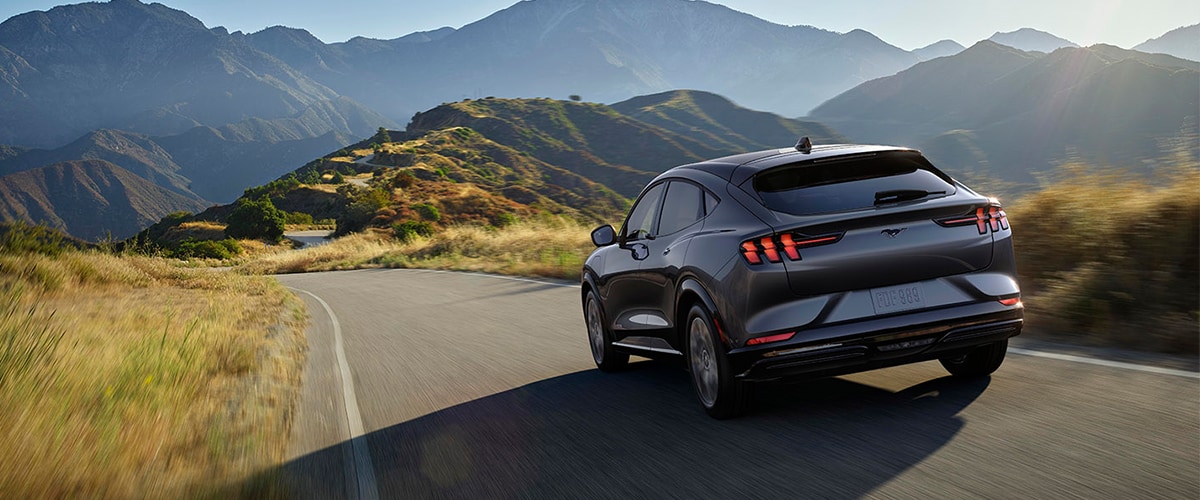 Why Portland, ME Residents Should Buy an Electric SUV
Eventually, electric cars might overpower the combustible engine competition. But for now, they're still an unknown quantity. At Yankee Ford, we understand many potential customers might not fully understand the benefits of owning one. Our goal is to educate our customers about the strengths and advantages posed by the Ford Mustang Mach-E's electric engine and why they should take one for a test drive. For instance, electric cars:
Cost Less: Beginning at roughly $42,000, the Ford Mustang Mach-E features a lower up-front cost than many fuel-powered crossovers. When you add the additional savings that owning an electric vehicle provide, it's a no-brainer.
Eliminate fuel costs: Fuel is one of the highest costs of owning a vehicle, especially in most crossovers and SUVs. While Yankee Ford carries several fuel-efficient models, only an electric car will eliminate them.
Require Less Maintenance: Oil changes and other combustible engine-related maintenance tasks disappear when you purchase an electric vehicle. While your old ride required expensive oil changes every three months, your new one won't need any at all.
Offer unique financial benefits: Maine residents should take advantage of the state's rebate program. The program aims to convince consumers to go electric. If you purchase a Mustang Mach-E electric crossover, you might qualify for an instant rebate of up to $2,000.
Are the future: Be an innovator! Chargeable vehicles are the future, and Portland, ME residents can place themselves on the right side of history with a brand-new electric crossover vehicle purchase. As a bonus, Mach-E drivers make a difference in the environment.
Enhance air quality: The Ford Mustang Mach-E produces zero emissions. When you drive one, you can rest easy knowing you're contributing to the betterment of Portland, ME's beautiful seaside communities.
Are safety tested: Federal government laws and regulations places just as stringent safety standards on the Mustang Mach-E during the design and testing phase of development. As a result, Mach-E drivers can count on boosted safety features.
Deliver a quiet ride: You won't believe the difference the lack of a noisy engine can make. Driving a Mustang Mach-E is a sublime and tranquil experience, one each of our customers can enjoy.
Result in preferential parking: Many local businesses do their part to encourage more responsible environmental practices. One of the ways they do so is by installing EV charging stations on-site and providing dedicated electric vehicle parking spots close to the building.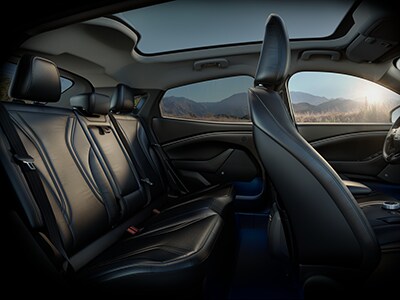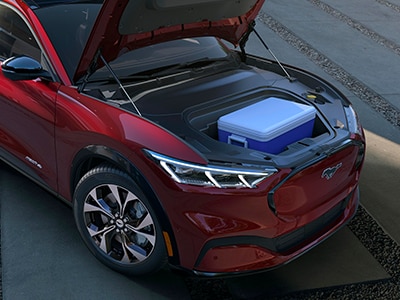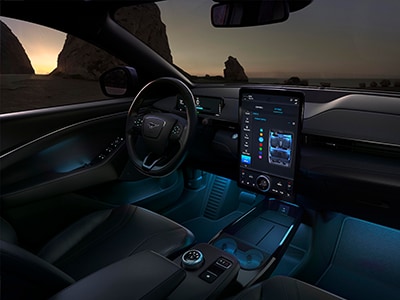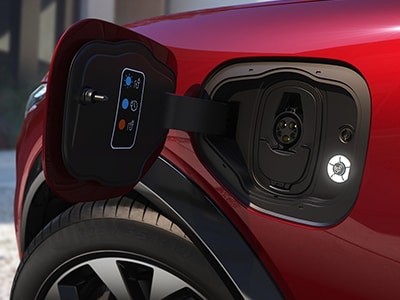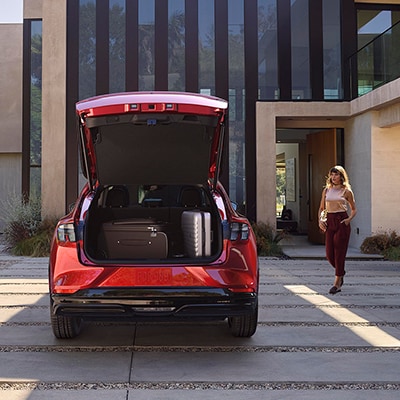 Sleek Mustang-Inspired Design and Increased Cargo Space
The Ford Mustang Mach-E isn't a traditional Mustang, but it harkens to it in some subtle and significant ways. Style-conscious drivers don't have to sacrifice a sleek design to gain cargo space. Featuring an assortment of colors and a bright blue limited-run edition, this model promises style to potential customers and delivers on those promises. Drivers can store groceries, athletic gear, and more in a cabin with up to 29 cubic feet of available storage. Additionally, you can easily fold the five-row seating and utilize the "frunk" or additional cargo space for a traditional combustion engine would be.
The Many Trim Levels of the Mustang Mach-E 
Fortunately for Portland, ME consumers, Ford delivers the Mustang Mach-E in several trim levels aimed at providing as much bang for your buck as possible. Yankee Ford keeps a broad spectrum of trim levels on hand, ensuring each potential customer can find something to love. At Yankee Ford, we pride ourselves on stocking our showroom and lot with everything our supplier makes available to us. Ford's three trim levels are:
Select: Offered in both rear-wheel and all-wheel drive, the select trim level ships in Spring 2021. Both versions use Ford's specifically-designed 75.7kWh standard range battery pack. Car owners can expect the rear-wheel-drive version to boast a range of 230 miles, 255 horsepower, and 0-60 capabilities in six to seven seconds. The AWD variation is slightly faster with a reduced range.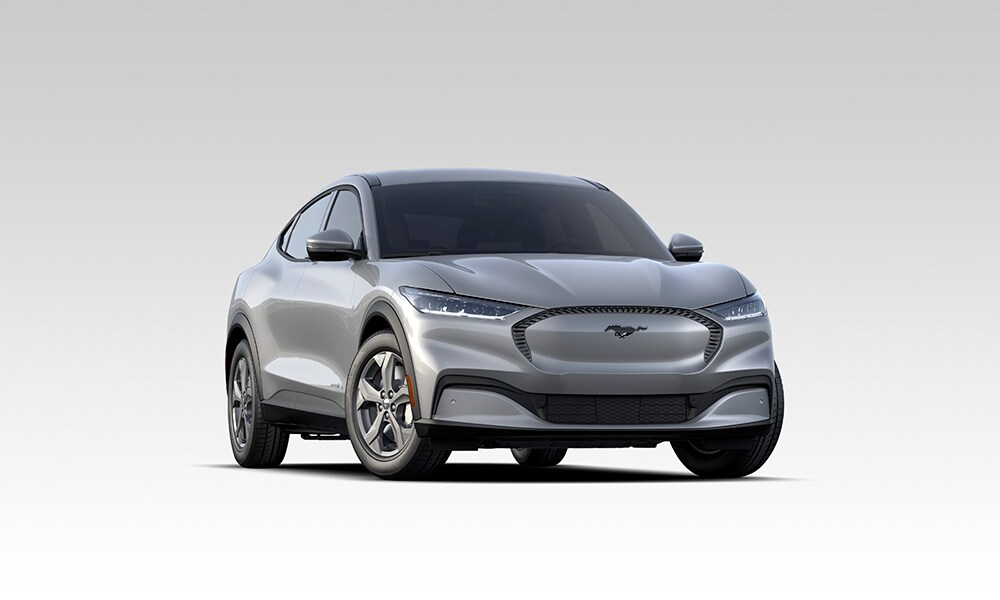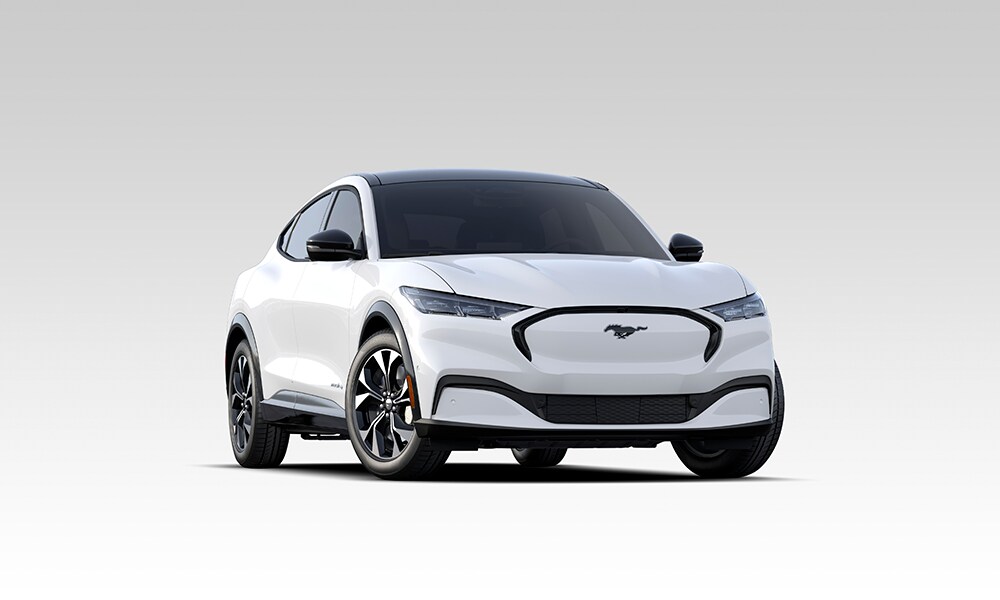 Premium: At a starting price of $50,600, Ford's premium Mustang Mach-E trim features improvements on the "Select" trim level. For instance, drivers can enjoy the standard battery pack or upgrade to an extended range model. Like the "Select" model, you can choose between RWD and AWD. As a result, customers can choose between four range estimates: 210, 230, 270, and 300 miles.
California Route 1 Mustang Mach-E: Starting at around $52,400, this model only comes in RWD but comes with an extended battery life of 300 miles. It also features impressive horsepower.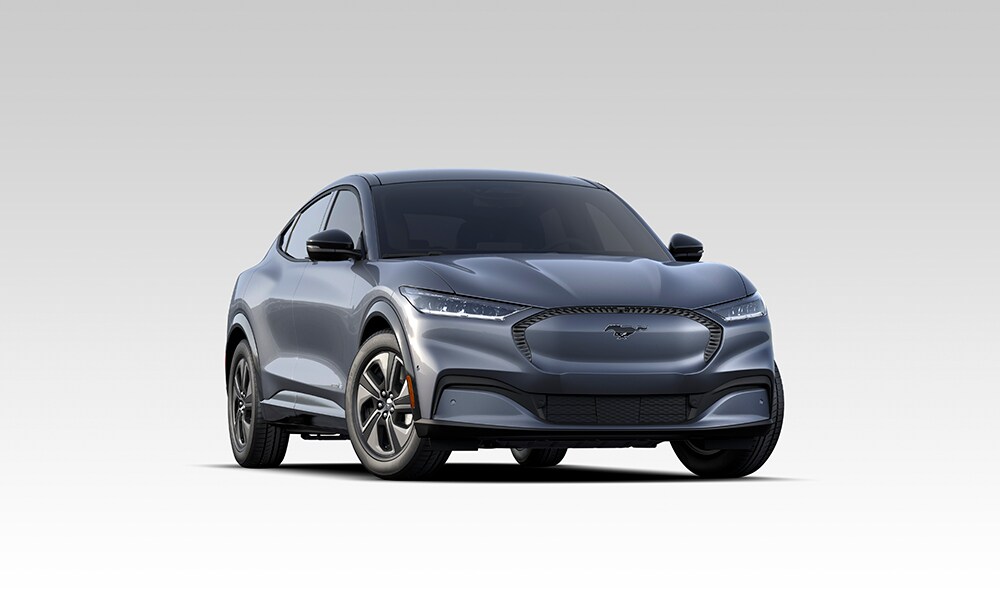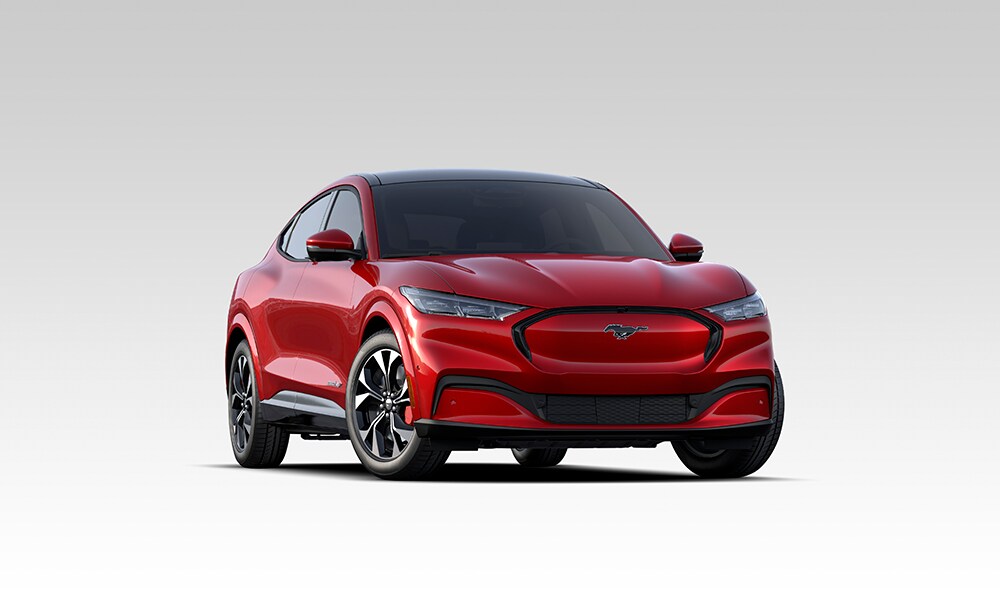 First Edition: Beginning at roughly $59,900, the First Edition is a limited-production initial run version of the Mach-E and arrives in late 2020. It has an extended battery pack featuring 270 miles of range and 333 horsepower. Owners can enjoy "First Edition" labels, brushed aluminum pedals, red brake calipers, and a luminous bright blue paint job.
Mustang Mach-E GT: Starting at around $52,400, this model only comes in RWD but comes with an extended battery life of 300 miles. It also features impressive horsepower.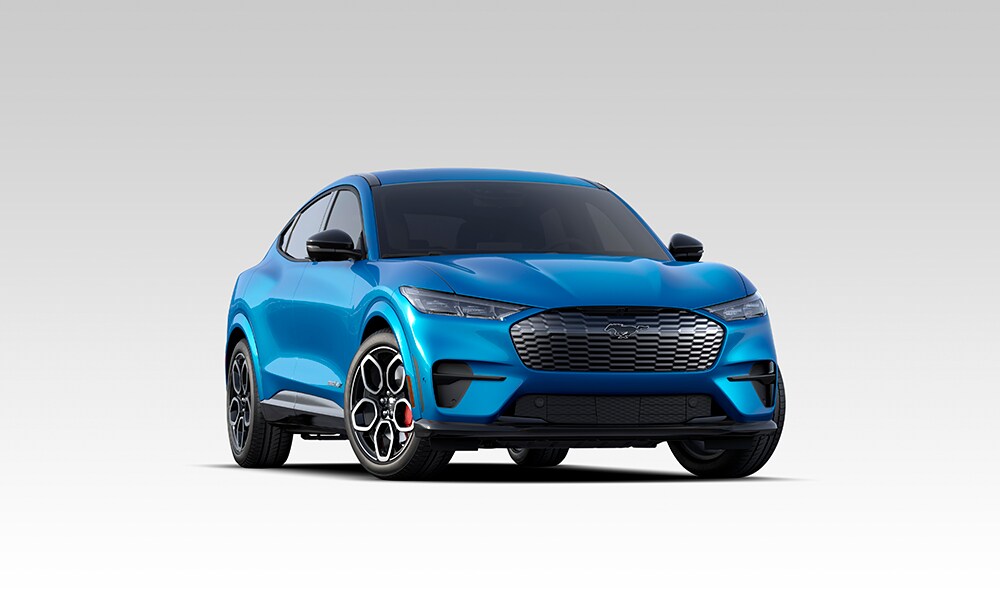 How the Mach-E's Interior Trumps the Competition
Potential car buyers don't want to compromise on the trappings modern luxury cars provide. They won't have to when they step foot inside the Ford Mustang Mach-E to take it for a test drive. Yankee Ford is proud to sell such a gorgeous and luxurious vehicle. As a Mach-E owner, you'll enjoy: 
Plenty of storage space due to the battery's placement below the floor of the car
A completely different interior design than the Mustang
A streamlined, intuitive interior layout, including space for purses
An extensive digital infotainment system with learning capabilities for increased customization
Customizable ambient lighting
Heated front seats and steering wheel
Wireless charging for smartphone devices
A panoramic sunroof
A front trunk made from durable plastics with rinsing and draining capabilities
The Mach-E Features a State-of-the-Art Display System
The Ford Mustang Mach-E features a next-generation infotainment system called SYNC, which learns as users interact with it. The system's adaptability allows it to create more seamless environments for drivers who use it. Additionally, drivers can take advantage of the 15.5-inch, vertically-mounted touchscreen which intuitively arranges apps and often-used systems. Other features include: 
Apple CarPlay
Android Auto
Wi-Fi Hotspot
Bang & Olufsen Sound System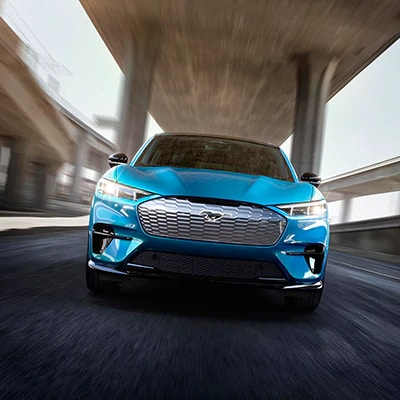 Drive Safe in a Ford Mustang Mach-E
Ford wants to keep their customers safe while driving their cars, and we want to as well. At Yankee Ford, we're proud to sell Ford vehicles that prioritize driver, passenger, and pedestrian safety. Electric cars pose a unique challenge. An engine produces enough noise for pedestrians to hear as they cross the street. Electric vehicles have no engine. Ford solved this problem by piping in the Mustang's trademark growl - which can be turned off - and a base, non-customizable noise for pedestrian safety. As for driver safety, the Mach-E includes a surround rearview camera, automatic emergency braking, active lane control, and driver-assistance as part of its base features.
Enjoy Customer-Friendly Warranty and Maintenance Coverage
Ford offers competitive limited, and powertrain warranties on all vehicles in their lineup. As a new Mach-E owner, you can rely on a basic level of warranty protection rivaling the competition. Ask a Yankee Ford representative about additional warranty options. You can count on:
Limited warranties of three years or 36,000 miles
Powertrain warranties of five years or 60,000 miles
Complimentary scheduled maintenance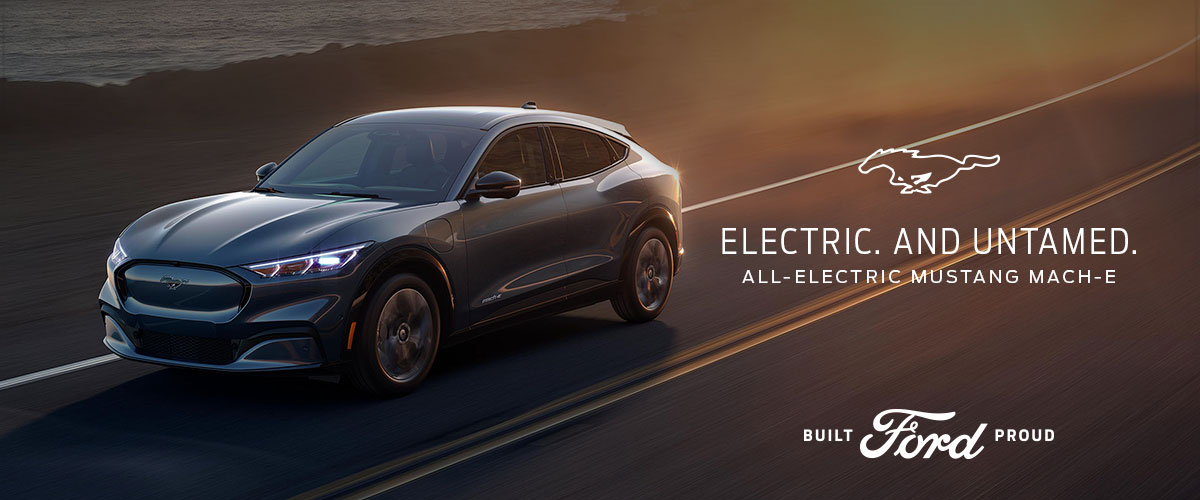 Visit Yankee Ford Today to Speak to Our Sales Team
Our new showroom is set up for social distancing in a safe environment. Yankee Ford wants to help make your dreams come true. We believe the Mach-E is the perfect crossover for a broad spectrum of drivers. Families will love the 29 cubic feet of space in the cabin and the additional front storage area. Those who want a vehicle with some serious kick won't be disappointed by going zero to 60 in as little as four seconds. To help you afford your car, we offer a finance center staffed with committed financial specialists. We can help value a trade to absorb the costs and walk you through the credit application process. If a Ford Mustang Mach-E isn't what you're looking for, Yankee Ford boasts a significant inventory of both used and new options. You'll fall in love either way.
Make an Inquiry