New Ford Parts for Sale in South Portland, ME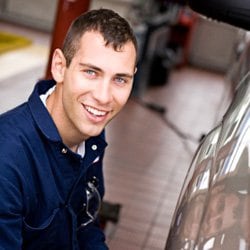 Yankee Ford Offers Quality Ford Auto Parts
Did you know that the average car has about 30,000 parts? At Yankee Ford in South Portland, ME, we pride ourselves on carrying all the parts you could possibly need for your new or used Ford car, truck, or SUV. Our on-site parts department maintains a comprehensive inventory of high-quality genuine original equipment manufacturer (OEM) parts, and our highly knowledgeable staff is here to answer all your parts inquiries. If we don't have the part you need, we will order it for you so that you can have it in a timely manner.
Quality Car Parts in South Portland, ME
Even though the Ford marque is synonymous with dependability and reliability, your vehicle is going to need repairs at some point during your ownership. We make it easy to get the parts you need. We carry just about every car part you can imagine, and we can order parts quickly if we don't have them in stock. Our expert technicians would be happy to install your Ford auto parts if you prefer not to attempt it yourself. Whether you're upgrading your model or looking for replacement Ford parts, we have you covered. You'll be able to order your parts easily if you already know what you need, and our team would be happy to help if you don't. Save time, money, and hassle by ordering all your parts from Yankee Ford in South Portland, ME.
Premier Parts and Service at Our Ford Dealership
Yankee Ford has all the parts you could ever need. We know that fixing up your older Ford might be a hobby you enjoy, and you can get all your parts from us instead of visiting multiple shops around town. Doing it yourself could save you money and help you get to know your vehicle better, but vehicle repair isn't recommended for novices. Our professional and courteous staff will make sure you get the right parts the first time to avoid hassle and headaches. Check out some of the many replacement parts we have in stock:
Air filters
Alternators
Belts and hoses
Brake pads
Brake rotors
Oil filters
Radiators
Spark plugs
Starters
Suspension
Wipers
We carry as many parts as possible, and we can order what you need quickly if we happen to be out of stock. We'll make sure you have the right Ford parts you need to make repairs yourself, or our certified mechanics can do the job for you to give you peace of mind. We also carry or can order popular auto accessories for your Ford vehicle at our dealership in South Portland, ME, including door sills, floor mats, electronics, shift knobs, sun shades, car covers, roof racks, spoilers, and more. If you have a parts request, simply fill out our form or give us a call today.