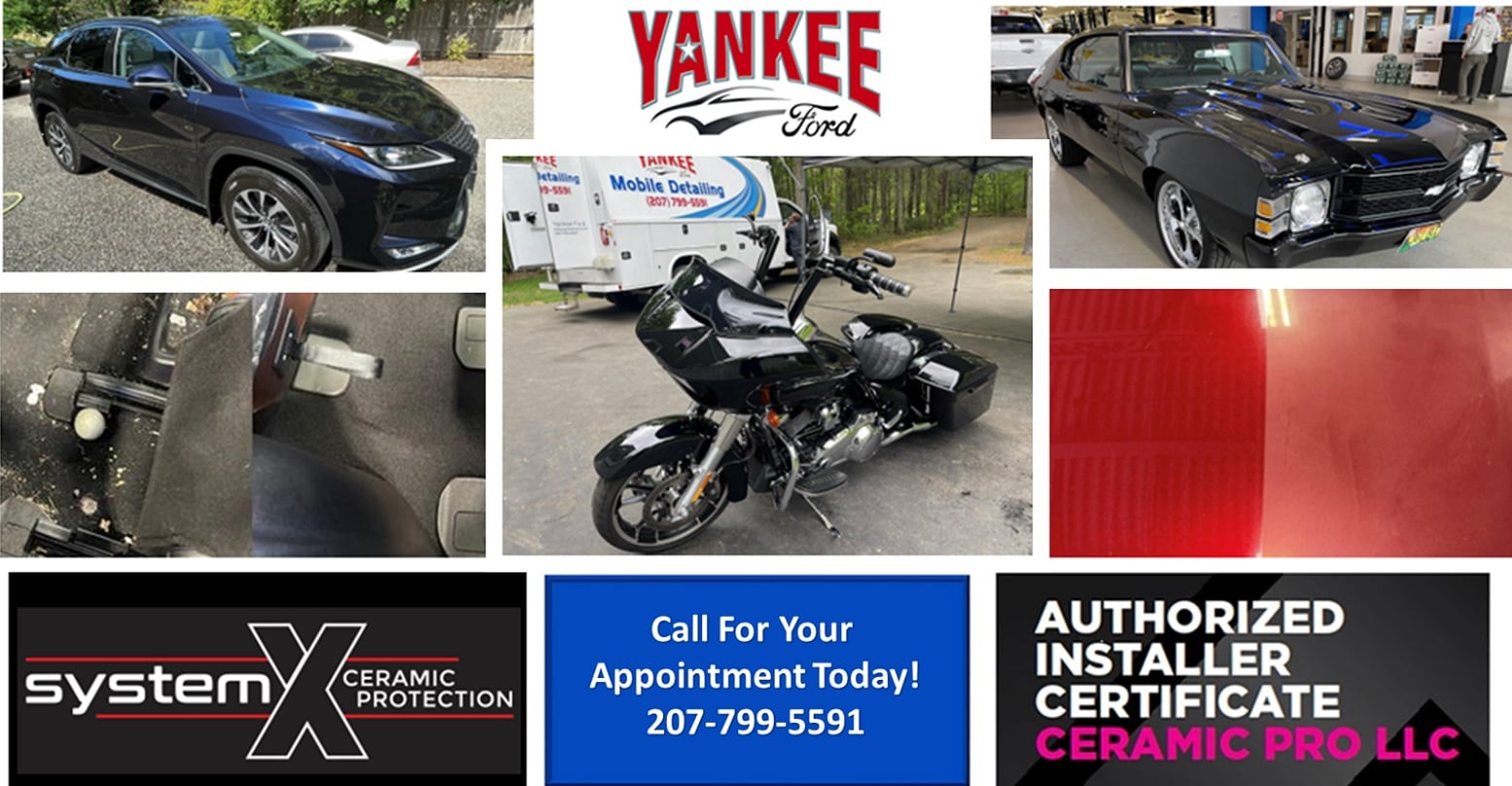 Car Detailing Services in South Portland, ME
We offer auto detailing, ceramic coating, scratch removal, installation of exterior accessories, removal of dents, window repair, rim repair, window tint, auto body painting, remote starters, and much more.
Auto Detailing from Yankee Ford
Every driver wants their car to preform at its best, but it's also important not to overlook how the interior and exterior look. Vehicle detailing includes a lot more than just a basic car wash. Car detailing consists of a thorough cleaning of the inside and outside of your vehicle, protecting it from outside exposures. Yankee Ford is proud to offer you a full-service auto detailing services at our Yankee Ford dealership in South Portland, ME. Learn more about the detailing services that we offer and contact us today to schedule an appointment.
Offering Complete Car Wash Services
Whether you've been in a collision or your vehicle is just a bit dirty, our auto detailing and car wash services are perfect for you. When winter leaves your car salty and dirty, or your truck is covered in dirt after off-roading, choose Yankee Ford Details for your car wash or your auto detailing services in South Portland, ME. Attempting to wash your vehicle yourself takes a lot of time and effort. Even after all of that, you likely still won't get your vehicle as clean as a Yankee Ford can. We have the equipment and the know-how to get your vehicle looking spotless and bright and shiny. We're dedicated to detail, and by the time we finish cleaning your car, you will be WOWED! We wash a variety of vehicles, including cars, trucks, SUVs, vans, and motorcycles. We have mobile detailing and can clean your vehicle on the fly. We also offer pick up and delivery approx. 10 miles from Yankee Ford
Yankee Ford Has Partnered With CnP Details To Provide You With Professional Auto Detailing Services
We offer several different detailing packages from a Ceramic coating  to a basic interior detail. Our most popular packages is the Hydrosilex package which includes a hand wash, dry, wheels, clay bar treatment, spray on ceramic coating, engine bay cleaning, vacuum, clean leather, all vinyl surfaces, clean door jams, minor stains, and wash windows. Another one of our popular details is a Premium Interior Detail. This one we like to say is best for the moms out there! This package includes, a thorough vacuum, dusting, cleaning all nooks/cracks, shine rejuvenation "if needed," wash interior windows, heavy stain removal, carpets, seats, clean mats, door jams. Hydrosilex off road which is a spray on ceramic coating to protect from environmental fallout, road contamination, harmful UV rays, and is super water resistant. We use all environmentally safe products.       We are licensed Ceramic Pro installers offering several different packages from Bronze package with a 2 year warranty to a Gold package with a lifetime warranty. Ceramic Pro protects from environmental fallout, road contamination, harmful UV rays, light scratching, prevents most chips and much more.
System X Ceramic Protection is our newest offering providing ceramic protection for both interior and exterior of your vehicle.



Auto Detailing FAQ
Yankee Ford Detailing Team (formally CnP Details) has over 30 years of experience! We teamed up with Yankee Ford in South Portland, ME. Offering to pick up your vehicle and drop it off locally or our Mobile detailing truck will come to you and detail your vehicle. If you have questions, we have answers. 
Why should I have my car detailed?
Auto detailing offers many benefits. This service rejuvenates and protects the various surfaces of your vehicle. In addition to looking great, your vehicle may also perform better. Your vehicle can be damaged from environmental fallout, harmful UV rays, road contamination, and many other things. Also cleaning and disinfecting the interior of your vehicle can help with your health! Keeping a clean car can help reduce the spread of COVID 19 and many other germs.
How long does it take to detail my vehicle?
Hydrosilex Package typically takes 4 to 8 hours depending on the vehicles condition. Premium Interior Detail ranges from 4 to 8 hours depending on the vehicles condition. Trucks, vans, and SUVs tend to take longer than compact cars. We can give you a more accurate time estimate at check in. You may review our Brochure for estimated times for each package and vehicle. Note: if you have pet hair, trash, kid damage and or excessive dirt it may be longer.
How often should I have my car detailed
We recommend that you get your vehicle's interior detailed at least every three to four months, and exterior every 6 months, usually Spring and Fall.
Why Should We Choose CnP Details At Yankee Ford?
Our auto detailers are detail-oriented and trained to detail all types of vehicles, as well as all makes and models. We stand behind our work and pride ourselves on outstanding customer service and attention to detail. "The WOW factor!" We build value to your vehicle. We build long term relationships with the customer for all their vehicle needs.
Allow Our Team To Service Your Vehicle
Yankee Ford offers a comprehensive Service Department, including Ford Original Parts, accessories, brake service, oil changes, new tires, batteries, and a whole lot more. Our Collision Center and Body Shop is the best in South Portland, ME area and works hand-in-hand with our detailing center. Contact us today for an appointment.