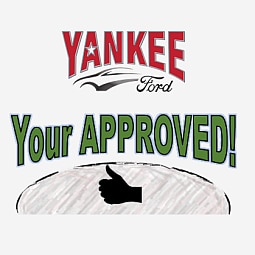 Welcome to the hub of Yankee Ford's Financing Center. Whether you're interested in obtaining new or used car financing in the South Portland or Maine area, you've come to the right place. Technology is transforming just about every type of financed consumer purchase, and here on our website, you will see a point of sale financing solution that allows customers to purchase and finance a vehicle entirely online providing a seamless user experience. 
Select your vehicle and simply click the Calculate your payment option, we have already set vehicle pricing, including taxes and fees; personalized incentives; and pricing comparison, you can also review prices with Kelley Blue Book Price Advisor. Additional features include the ability for you to save a deal and return later to complete the process, and the assignment of a single point of contact at the dealership to ensure your experience is well managed.
What Does It Mean to Finance a Car? How Do I Apply?
Few people in today's uncertain economy can afford to pay for a new car, truck, or SUV with the upfront cash required. However, you have many
financing options
available at Yankee Ford to help make it more affordable. When you finance a car, you sign a contract stating how much you owe and how much you intend to pay per month until the car loan is paid in full. Your monthly car payments can fluctuate depending on how many years you'll have to pay off your loan and interest as specified by the car loan terms. Your lender determines the interest rate on your car loan according to your credit score and history. Yankee Ford strives to make applying for car financing quick and easy. You can now fill out our
online financing application
to see if you're approved for credit from the comfort of your own home.
Feel free to ask us any questions you may have regarding how to finance a car at our dealership. Yankee Ford takes your privacy concerns very seriously. Rest assured we'll never rent or sell any of your personal information to third parties without your explicit consent. Read our privacy policy before submitting your financing application or any inquiries to our dealership. 
Is There a Difference Between Car Loans & Car Leasing?
If you intend to pay off your new vehicle within the next few years by making monthly car payments, a car loan is probably the right option for you. However, if you're the type of person who prefers to test-drive all of the latest makes and models, swapping out your ride every so often, you may want to consider car leasing. Car leasing allows you to also make monthly car payments in exchange for driving the vehicle according to the lease specifications, which usually limit the amount of mileage you can put on it. The primary reason people consider car leasing over financing is it may give them the ability to drive a newer vehicle without having to pay for the ownership of it. In some cases, car leasing may be the best short-term financing option for your needs.
Will I Qualify for Car Financing If I Have Bad or No Credit?
No credit? No problem! Even if you have bad credit, car financing is possible at Yankee Ford thanks to our cultivated relationships with many of the area's leading car loan companies. Even if you've been turned down elsewhere, we'll work with you to help you secure a car loan according to your unique situation. Low-interest car loans may also be available for customers with existing car loans. Sit down with a member of our knowledgeable finance team to see if you qualify for refinancing your car loan to adjust the terms of your contract. When you come to Yankee Ford's dealership, you're one step closer to car financing approval and driving away in your dream car, truck, or SUV. We also have an
online credit estimator
, so you can get an estimate of your credit score before you visit us.
Reliable Transportation with Car Financing Yankee Ford
Yankee Ford's Financing Department would love to hear from you! Please
contact our dealership
today for more information about scheduling an appointment with one of our representatives. Whether you have questions about new or used car financing in Maine, we'd be happy to assist you in your search for reliable transportation for you or your family. Our dealership in South Portland includes a plethora of new and used models from Ford, Dodge, Mercedes, Subaru, Chevrolet, and more, so there's truly something for everyone on our car lot. If you're a college grad student, member of the military, or a first responder, be sure to ask us about our
financing specials
!